OUR COMPANY
Working on a subcontracting basis, Defiap makes (produces) packing of tinplate products supplied from the client. Our company has already developed within its organization a system characterized by the quality management with a focus on process implementation to satisfy all our customer requirements.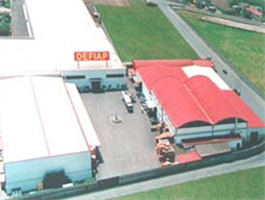 This has always been our business philosophy, our principles are oriented towards process implementation, customer care, staff training and the overall organization of our company, all clearly identified in the UNI EN ISO 9001: 2008 regulation.

For this matter we would like to specify that the organizational and productive System of the DEFIAP spa is organized on three sites with a total area of about 80.000sqm.



1. DEFIAP spa Via Casciello, 8 Scafati: registered office and operating logistics and packaging;2. DEFIAP spa via Tora, 20 Scafati: headquarters operating logistics and packaging;3. DEFIAP spa via D. Alighieri, 149 Scafati: operating center for
storage and warehousing of tinplate boxes;

DEFIAP spa whose activity has began in 1983, has as principal activity that to furnish assistance to the client, along with packaging we also furnish a series of services that we guarantee being important requirements as:



safeguard and correct management of the accessories components for packaging, essential for the labeling phase;
Organization of all the shipment phases according to the specifications indicated from the client;
Corrected management of the communication flow among client, manufacturer of the semifinished products received for manufacturing purposes, shipping company and conveyor, that all together represent the organizational environment in which operates the company.
Info & Contacts
DEFIAP spa
Legal and administrative offices:
Via B.Casciello, 8 - 84018 Scafati (SA)
ITALY
.
CONTACTS
Tel. +39 081 8504848
. +39 081 8504858
Fax +39 081 8501076
.
E-MAIL
Establishment
Via B.Casciello, 8 - 84018 Scafati (SA)
Tel. +39 081 8504848 +39 081 8504858
Fax +39 081 8501076
Via Tora, 20 - 84018 Scafati (SA)
Tel. +39 081 8565098 +39 081 8599784
Fax +39 081 3539292
Via D. Alighieri, 149 - 84018 Scafati (SA)
Tel./Fax +39 081 8509403